[Update 06.03.20]
A note on reopening: We know many studios are reopening at a different pace depending on their local guidelines and culture. We recognize the far reaching implications of this as there are new cleaning practices, capacity guidelines, hybrid in-studio and livestream formats. With that in mind we have many resources available to support you.
Please check them out:
[Blog] 10 Safety Tips For Reopening Your Fitness Studio After COVID-19
[Podcast] Integrating Virtual and Live Stream Classes Into Your Studio Reopen
[White Paper] Marketing Your Relaunch: Five Steps For A Successful Reopen After COVID-19
[Update 04.01.20]
This blog post was published on 3.17.20. Over the last two weeks, one area that has changed fast for boutique studios is the best way to provide video content to their clients. Social media is still key to keeping your clients engaged and sharing your brand with the world but video-on-demand has quickly become a new part of the boutique offering. We have published two blog posts on this topic and recorded podcasts you can listen to, to learn from the experts and studios who have been busy producing new streaming websites. There is a lot of helpful advice in this article but be sure to read/listen to these articles about video streaming :
[Podcast] The Right Way To Stream Boutique Fitness Classes
[Case Study] How to Launch Your Studio's Video on Demand Classes in Just Four Days
A quick heads-up.
The Coronavirus situation is fast-moving and some information in this article could be out of date by the time you read it!
We also know this is a pretty long blog post but we wanted to include as much information as possible, to help you right now.
If you have the time, please read the whole article and decide for yourself which information is useful for your particular situation.
If you have any questions or ideas you'd like us to share with the wider community, don't hesitate to contact us at info@zingfit.com.
The coronavirus situation is unprecedented, we are all searching for answers.
Our boutique fitness industry – the gyms, studios and brands – we have all worked so hard to help build, are tackling their first industry-wide crisis. We all had one eye on the economy but none of us expected something quite like this.
Moreover, the situation surrounding COVID-19 is fluid. The daily speed of change means issues that demanded answers change before we can even implement the solution.
What were the right answers to the issues and questions we faced yesterday might not be the right answers today.
As taboo as it might be to write it, one hard truth remains consistent, given where we are in the current crisis, "It will get worse before it gets better." It is important to say this out loud, acknowledge it and move to the next phase of responding strategically—reacting wisely to the 'here and now' and planning for the future. From scenario planning, to staff logistics, to managing rent and developing a new marketing strategy, all these are areas that demand our intellectual muscles.
In these uncharted waters no one can claim to have all the answers to the issues but we wanted to share with you some thoughts and observations to help you navigate today, tomorrow, the coming weeks and months.
Five things to remember.
i. We live in an age of easy and unfettered access to digital media.
Social media has put people in constant touch with each other. Likewise, brands have direct access to and dialogue with their customers. In times of crisis (perhaps even more than in the good times), social media is a powerful and the best tool for communication.
ii. Creating content is cheaper than it's ever been.
Whether it's photography, design, or video, the creative tools we have access to, combined with a smart, creative millennial population (sorry Gen X-ers) mean we can readily create great content. The only thing not to forget, take the time and discipline to develop good ideas.
iii. The boutique fitness industry has been a force for good.
It may be hard to truly measure it, but we know our niche (a very big niche!) is the major driver of growth in the wider fitness industry. And we know that boutique and group fitness have helped shift fitness to be a social and community experience. It's fair to say that boutique fitness has driven positive change when it comes to the broader wellness of society and when the crisis is over it will do so again.
iv. There are incredible thought leaders and entrepreneurs in our space.
From famous thought leaders who founded brands such as SoulCyle, barre3, and Peloton to the inspiring business leaders and entrepreneurs in cities across the world; there is a wealth of intellect, proven experience, entrepreneurial spirit and grit. This is a community that now needs to come together and support one another.
v. The people who choose to workout at boutique fitness studios are not just gym-goers, they are members of a tribe.
The entrepreneurs and teams leading boutique fitness studios and gyms have nurtured and cultivated real tribes, this is something incredibly special. Business schools all over the world lecture and teach students about building brands. Studying it is one thing—doing it is what really matters.
Galvanize the industry, embrace your brand and engage your tribe.
Using the above resources, here are ten ways to help you positively respond to COVID-19.
Ten Ways To Positively Respond To COVID-19
No.1: Embrace social media—it's OK be open and vulnerable.
Don't be afraid to get on social media and talk about what has happened to your studio. There's no right or wrong way to do this. But with a positive mindset you could start by posting what your heart truly feels and what you feel deep down your customers want to hear from you.
As the founders and leaders of your brand talk directly to your customers—share a video, explain how you feel and commit to continuing to talk to your customers. Daily content is OK, your brand is a big part of their lives. It pays to map out what content and messages you want to share each day.
Your customers are scared.
Remember your customers are also experiencing a lot of fear about the impact of COVID-19. Sharing enables us to connect more deeply and address what is happening and start to address our collective mental health.
Put wellness and fitness at the heart of what you continue to share on social media. In an ideal world you may want to monetize content. That may well be part of your longer-term strategy. However, in the here and now give your customers free content, exercise classes, and wellness vlogs on sleep, mental health, and nutritional guidance.
Look at what Tuck Barre & Yoga is doing on Facebook and with Venmo, Yahoo News writes:

"..Boutique fitness studios that closed for business have reached a new audience. Tuck Barre & Yoga, a Philadelphia-based yoga studio with four studios […] started offering livestreaming on Sunday for anyone to access for free. The livestream has attracted people nationwide."

https://finance.yahoo.com/news/coronavirus-accelerates-streaming-fitness-class-230403291.html
Food and sleep will be a big part of how your customers stay healthy while we all self-isolate—share good advice on both of these with your tribe. Moments like this often force us to change, your customers will thank you for helping them adopt new nutrition and sleep patterns.
Don't forget to apply good sleep and nutrition to yourself. Plenty of sleep and self-care will help you make the right decisions in the coming months.
No. 2: The power of video content.
There is a race happening to sell you streaming content solutions. At zingfit we think these types of solutions have a role to play but before you jump in think carefully about your video content and monetization strategy.
Don't gate or create paywalls for video streaming content, at least not right now.
It's not contrary to recommend that you offer free content. In doing so you will help your customers continue to workout and you will maintain engagement with them, don't put roadblocks in their way right now.
Their whole lives (likes yours) have been turned upside down. If you offer something as a gift, the positivity will be returned. Even go as far as to ask your clients to share your exercises and content with their friends—spread the positivity. There is a light at the end of this tunnel and the more people who know about your brand the better.
If that isn't enough to convince you why free content is good, we recommend selling packages and posting your schedule via your studio management platform and then running your classes over Zoom.
At zingfit our Support Team has been helping studios think through the free content and Zoom approaches. We have published a Knowledge Base article on how to manage the workflows for selling and scheduling "virtual classes" and then running them on Zoom (or Google Hangouts, etc…)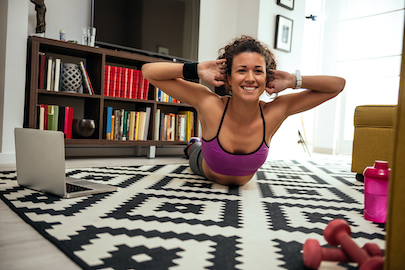 If you do decide to purchase video streaming software and monetize content, remember you will be competing against bigger brands such as NEOU that offer paywall streaming content.
If you do use a streaming platform to monetize content, remember you will be significantly distracted by a new business strategy, SEO, learning a whole new craft and set of digital solutions and processes. That doesn't mean you shouldn't, for some this pivot could be a whole new business but it won't be for everyone.
If you're looking for inspiration, here are a handful of brands that have published free, easy-to-view content:
Becycle, Berlin: https://becycle.de/
Click on the "WATCH NOW" link on their homepage. You are taken to a well-produced but simple YouTube video. It's a great example of what one can produce, even if you're known as an indoor cycling brand.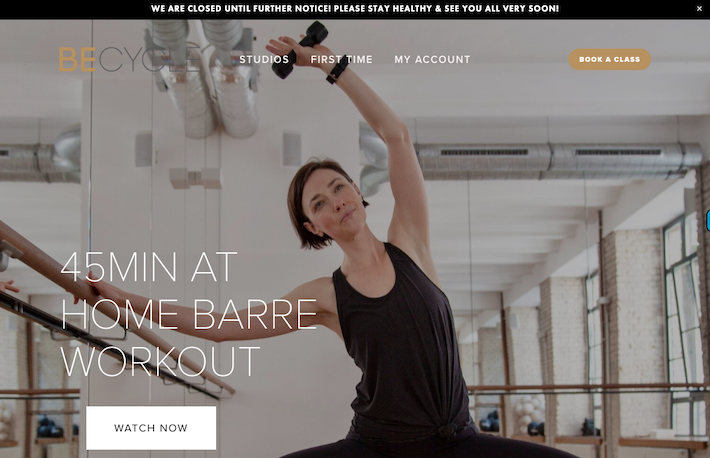 Grow Fitness, UK: https://www.instagram.com/growpeople/
The Grow team has started an Instagram social media content strategy. They will be regularly posting on Instagram: "The current situation has made training a little bit trickier (to say the least…) We want to do everything we can to help you stay on track, so we'll be providing workouts you can do at home, with minimal equipment, for as long as you need."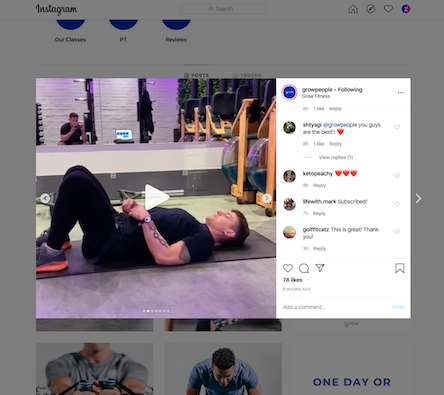 Psycle, London: https://www.instagram.com/psyclelondon/
Their multi-page post from March 16 explains they will be, sharing content on workouts, self-care and nutrition every day via Instagram.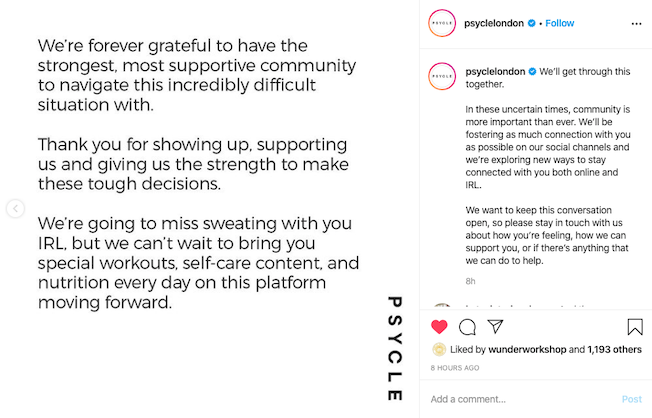 No. 3: Ways you can safely engage your customers while we social distance and self-isolate.
Include your instructors in the digital and video content you share with your clients. Trying to do everything on your own will be hard.
Your instructors have been a big part of you building your brand, your culture, and your tribe. Ask them to help you with creating exercise videos, uploading to YouTube, streaming on Facebook, together you can create a social content program.
Earlier in this article we mentioned Tuck Barre & Yoga, their instructors are live streaming classes via Facebook and viewers can voluntarily pay the instructor what they think the class is worth via Venmo.
Note: The "Venmo support @callie-kim" comment, so that viewers can send Callie what they would like for taking part in the class.
Your instructors and staff are part of your brand too.
It might sound old-fashioned but if it's feasible enlist your instructors to help you call your clients to say, "hi" and ask them how they are doing. Building on what Tuck Yoga & Barre are doing combine this kind of outreach with livestreaming from your Facebook page. Just remember to keep control of your social media accounts and who has access. Later on you might want to change access rights.
If you do call customers: You will probably end up leaving voicemails on most people's phones. But make sure you can talk to your customers for 10 minutes when they do pick up, so you can ask them how they are feeling, discuss what exercise they can do and if you have video or social content published, point them to it.Write a script or clear conversation points that you want your instructors to mention when they speak to your clients. And, if you end up leaving voicemails, work out what you want the message to say, to create a consistent message whoever is doing it. (Leaving messages is awkward, you want to get this one right!)
Warmth and human connection count for a lot at times like this and sharing that warmth as quickly as possible is a good idea. You can't do it all, work with your team and set a goal for making calls.
No. 4: Consider whether you and your instructors can run 1:1 training programs at scale.
This might sound strange given we're all in the business of group fitness. But what if you could create a 1:1 training program that can be deployed in a one-to-many way?
The program(s) could be based on your class or an exercise regime you feel comfortable sharing. If you own an indoor cycling studio, you might create a lower body strength training program and a cardio program.
Think outside your four walls.
Apps that connect fitness trainers to their clients are getting better and better. TrueCoach: https://truecoach.co/ is a great example of an app that allows fitness trainers to work remotely with many, many clients. You and your instructors can load up the exercise regime, check in with your clients and even message over the app.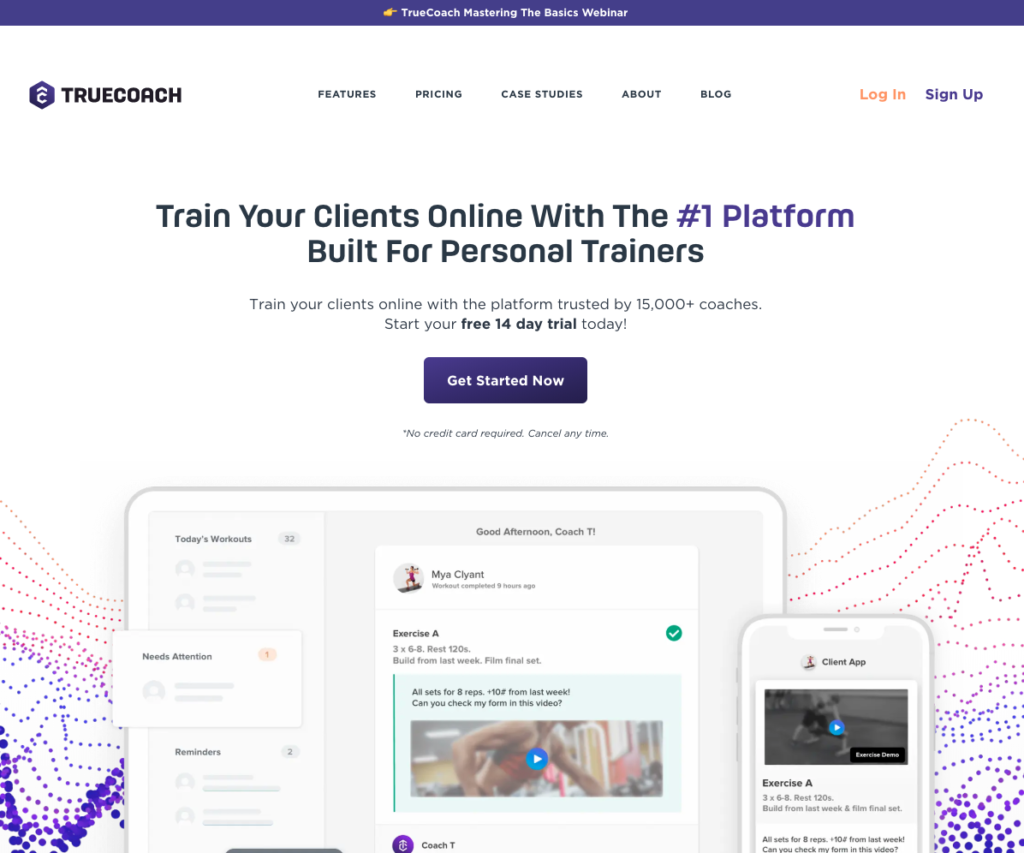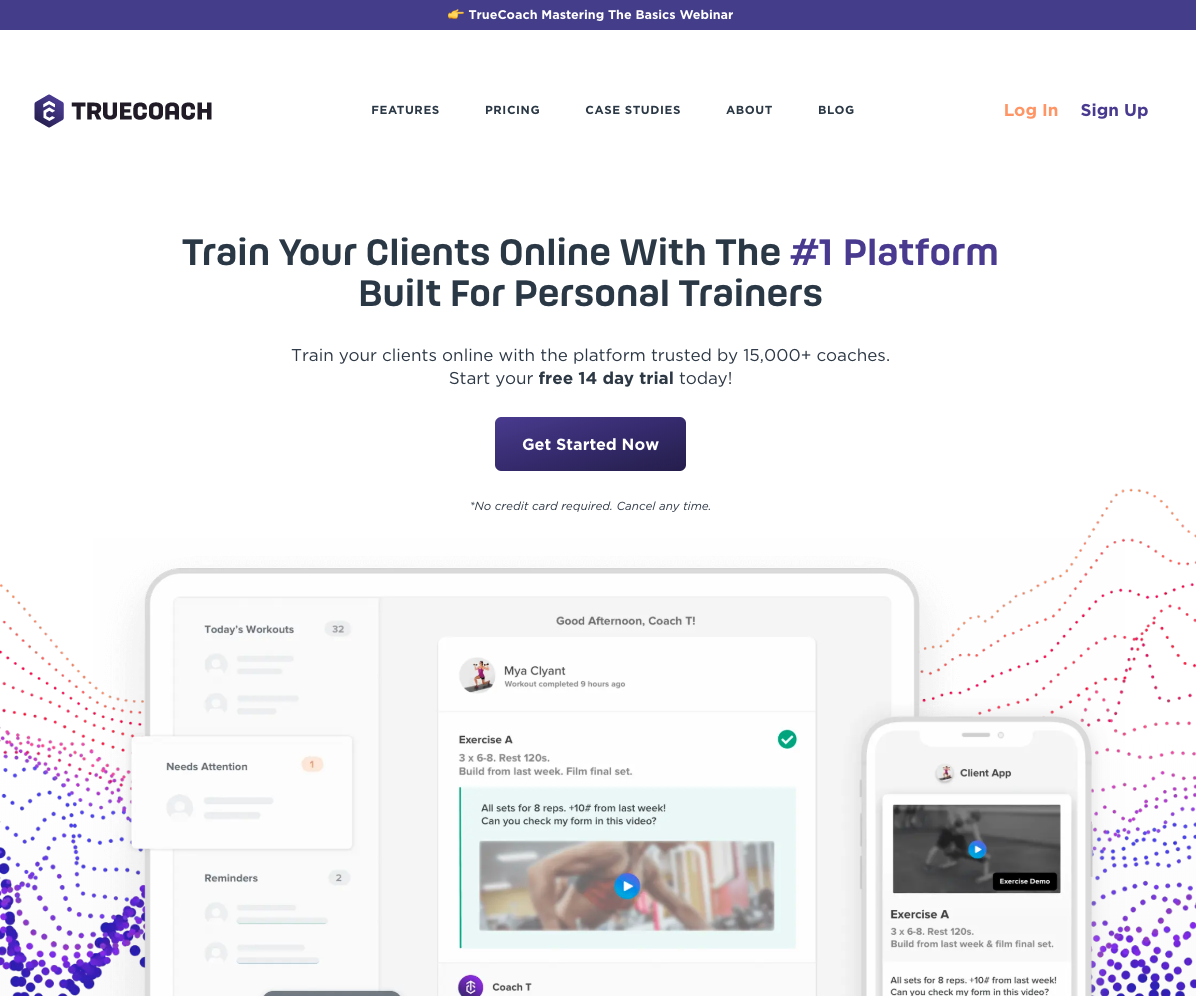 If you try this approach, test it out for yourself first and then work closely with your instructors and explain why, how and what you want to do.
It could be a way to maintain some of your revenue and increase your offering in the future too.
No. 5: Think outside these four walls and get outdoors.
Literally think outside your four walls. Depending on what the local or national government has mandated, you still might be able to get outside for some fresh air and a run, bike, or walk. Ask your customers to share their favorite running, walking, and bike routes.
Map it on google maps, write about it on a blog and/or in social media and share the route with all your customers. Lead by example and publish your favorite runs and nudge a few of your customers who you know will help you, to get others to follow suit.
No. 6: Encourage and reward, even more than you did before—now your doors are closed.
It might sound counter intuitive to reward people when they are not coming to your studio. But in these stressful times what better way to help people feel happy, keep endorphins up, and trigger a sense of delight than with a simple reward, courtesy of your brand.
Encourage and reward your customers for tracking their exercise and sharing it with you and your studio/gym community.
If you or your customers don't like leader boards or explicit tracking, create a discrete way of sharing personal fitness achievements. The goal is to continue a sense of community and tribe, in which people can take pride in their exercise.
Reward your customers based on trust with some cool studio merchandise. You can reward based on miles run, commitment, or just from your heart!
A branded tee or vest arriving in the mail will brighten someone's day up immensely and the next time they go outside to exercise there's a good chance they will wear it. What a great thing for your brand and your customer.
No. 7: Remember when you got old-fashioned Direct Mail?
If you live in the USA, I'm guessing you got a postcard from Peloton a while back. Why did a digital, content and subscription-based company send a traditional mailer? Because it works.
Find a favorite photo of your studio, or a class that you are able to use in marketing. (If it includes class members ask them in writing if it's OK to share it in a one time mailer.). Create a simple, premium postcard and send it to your customers with some heartfelt text on the back.
Don't be afraid to ask your customer to pin it up at home, to remind them how important it is to exercise and keep well while we are all self-isolating.
If postcards aren't your style, what about designing and printing an inexpensive sticker to mail out that your customers can put on their water bottle or laptop.
No. 8: Business-to-business support will be invaluable, as we all come together to deal with COVID-19.
If it doesn't exist today, create a local forum with your boutique fitness business friends, frenemies and the competition.
Facebook and LinkedIn have communities and groups. It's highly likely you're already in a boutique fitness forum or group but if you're not find one and request to join it.
If you can't find one, set one up. If your town/city has a number of boutique studios, reach out via social media and say "hi" and consider setting up a local boutique fitness group (you can make it private). Finding similar businesses and entrepreneurs to share your experiences will really help.
When it comes to building forums, if you're an independent boutique fitness entrepreneur don't exclude boutique fitness franchise owners and vice versa. You might feel very different but both types of business owner are deeply vested in their studio and you both have good ideas to share.
There are no guarantees on what you'll learn or what problem shared will be eased. But by coming together there is a better chance of getting invaluable advice. It could be how to write or speak with your landlord about a rent holiday. Or, how you can work with your equipment company on easing your financing commitments until revenue is coming back into your studio.
Boutique fitness studios have become cornerstones of local brick and mortar downtowns and shopping centers. They will be part of the solution to get consumers back into stores in the difficult months after coronavirus.
Your boutique fitness studio helps with footfall to your local area. Other businesses will really miss your presence. People go to other stores in your neighborhood because you're there. There's a good chance there are even two boutique fitness studios on the same block. You're important to your local business community. Talk to the Chamber of Commerce and local business forums to see how they can help you and how you can help them.
No. 9: Why focus on marketing your boutique fitness studio, when things are not good?
There is a popular adage, "When times are good you should advertise. When times are bad you must advertise." Big business spends money buying media and while you may not have that luxury, you do have creative and natural marketing instincts that have got you this far. Taking ideas from above and some of your own, invest your time and skills in continuing to market. You want to maintain mind space with your customers, find new social media followers and continue to promote your brand and fitness regimes—ready for when your doors re-open!
No. 10: Plan for the future.
It's early days but the data out of Asia suggests there is light at the end of the tunnel.
There are certainties in life. As bad as it is right now and as hard as it gets over the next few weeks, and perhaps the coming months, it will get better.
None of us know when we will be able to celebrate the re-opening of our industry's boutique fitness gyms and studios but it will happen and celebrate we will.
Your clients will want to get back to working out as soon as they can. You have created demand for the brand and experience you built—tell that to yourself everyday, ready for when you re-open.
Imagine and project into the future: If people want to get back into the gym after the Holiday Season, imagine what it will be like after this crisis is over. Society will value wellness and fitness more than it ever has.
Right now you need to focus on many of the things mentioned above to engage your customers but don't leave it too long to start thinking about how you will announce your re-opening. Don't just rely on an email when you open back up.
What actions, ideas, channels and content thoughts can you put into a media and marketing plan now, so you don't lose them and lose time later on planning. Start a basic plan now and when ideas come to you write them down, ready for putting more structure into them later on.
What will other creative and entrepreneurial businesses do in adjacent industries, that have been similarly impacted?
In conclusion, remember why people love boutique fitness.
You and your boutique fitness brand are one of the most important parts of their lives. Our world and the fitness industry has shifted over the past few years, customers are willing to spend more on experiences and more on their wellness.
Boutique fitness is has become a constant in people's daily lives. What was once a trend has become a mainstream, albeit the coolest, part of fitness culture.
Remember people will be hungry for their boutique fitness workout. When this is all over they will be craving exercise, community and wellbeing.
Don't get caught in analysis paralysis, start taking action and marketing to your customers to stay front of mind.
They rewarded you with their custom in the past and if you keep them engaged they will do so again.
CLICK HERE to book a zingfit demo!