The weeks following the COVID-19 outbreak have been very intense and uncertain at times, but we've also loved seeing all the creativity and innovation as our industry has pivoted to meet evolving consumer and business needs.
We realize that even with lockdown measures starting to lighten, the boutique fitness industry is not out of the woods yet. Some states have already lifted stay-at-home orders, and some plan to in the coming days and weeks.
Whether you plan to open your studio at partial capacity, space out your schedule, or wait a little longer to open—we want you to know we're here to help. Below are some ideas for you safety measures you can take to keep your community safe!
This article will advise you on best practices to protect customers who walk through your doors and attend classes. Please note these are not legal requirements, so be sure that you know your local guidelines before reopening your studio.
For marketing tips on how relaunch your studio, check out our white paper: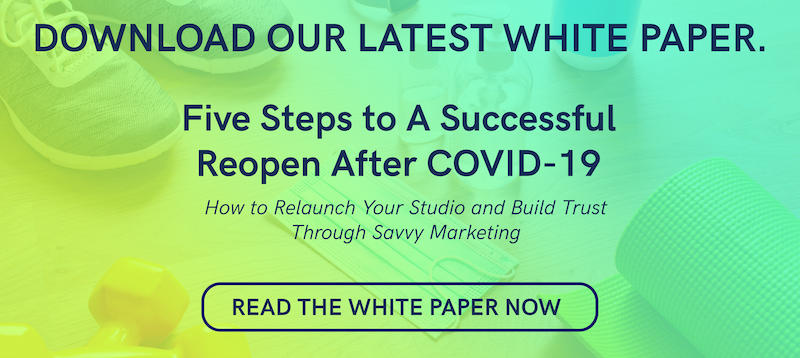 1. Create your own studio branded masks 😷
Your customers are die hards of your studio brand. Now is a great time to create studio branded masks for your customers to purchase and wear. There are hundreds of DIY videos for creating your own mask (with or without a sewing machine). If you are able, purchase customized fabric with your studio logo and create masks to sell in-studio.
Depending on where you are located there may be mandates to wear a mask in public. Please keep that in mind when customers start walking in the door. If there is a mandate and a customer is not wearing a mask, they will need to leave or your studio may be liable.
2. Stock up on hand sanitizer and cleaning products 🧼🧽
This may be difficult if there are local supply shortages, but many studios have worked directly with disinfectant manufacturers to get deals on bulk supplies. Don't forget gloves and other protective equipment for your staff while they clean!
We suggest having hand sanitizers at the front desk, the front of the classroom, outside the classroom door, in the locker rooms, and in the bathrooms.
3. Create additional spacing in between machines ↔️
Social Distancing has been a hot term the past couple of months. As we all open our doors back up, it's important to continue social distancing to keep your customers safe. There are a couple of way to go about doing this:
1. Physically remove a fraction of your equipment out of the studio room and into storage. This will help with spacing out the machines you leave in your room.
2. If you can't physically move your machines (or don't want to) you can always add a sign to block off every other machine.
If you're already a zingfit customer, here are some ways we can help with this change of set up:

1. If you have a customized room layout that zingfit built for you, our Client Services Team can help you update your classroom map. Just submit a web dev request here.

2. If you are using the room tool, reach out to support and request the max spot count to be decreased. This will allow you to update the room to reflect your new layout.

3. You can always change your room layout from the spot tool to a list view. This will decrease concern or any confusion your customers may have when they book their class. To this please contact support.
4. Update your class schedule to reflect more time in between sessions for cleaning 📅 
We suggest providing a 45-60 minute break in between each class. This will give you enough time to sanitize all of your machines, door handles, light switches, locker rooms, kiosks, point of sale machines. Anything that is touched needs to be sanitized after every class.
One idea is to pretend you are a customer, with a notebook in hand, and to walk into the studio writing down every single thing you touched. This will create a master list of everything that needs to be sanitized in your studio in between classes. You can laminate this list, velcro a dry erase marker and ensure the checklist is completed in between sessions.
5. Disable the communal amenities! 🏋️‍♀️
This includes and isn't limited to:
• Water Fountains
• Hair Dryers
• Free Weights
• And possibly showers (we know this is a tough one for many customers but cleaning between each use may be impractical)
If it isn't a necessary item, it doesn't need to be exposed to more germs!
6. Do not let people gather in the studio lobby to wait for a class 🧑‍🤝‍🧑
Create a process that works for your studio to encourage social distancing. Some businesses require customers to wait in their car before their appointment and either call or text them when they can walk into the building.
You can post a sign to request for the customer to call before they enter the building so the staff can control how many occupants are in the studio at once. You can also update your class reminder email with your new policies to educate customers on the process and avoid social gatherings as much as possible.
7. Conduct symptoms check before your customers enter the studio for a class 🤒
Any customer showing any symptom of illness should not be allowed in your studio. One way to prevent this is to have someone at the door as people walk in and ask them if they were exposed to COVID, or if they are showing any symptoms.
If anyone has self-identified as exposed you can require them to call the studio with a status on their symptoms and make a note on their customer file to follow up to make sure they are safe and well and make a plan for returning to class when they feel better.
However you ask, if a customer has been exposed it is your decision and discretion to allow them into the studio. If a customer is showing any of the symptoms listed here by the CDC, do not allow them into the studio as they may infect other customers.
8. Start offering more virtual classes! 📺
There are several options to choose from for this:
1. Zingfit is working hard to launch a native video-on-demand solution which will be available in public beta next week. We understand that some of our studios may not want to spend on add-ons to their subscription so we are adding this functionality to all accounts for free!
2. Zingfit has integrated with Brandbot to provide studios with a solution to automate communication for Virtual Classes.
3. More to come soon! Please reach out to us if you have any questions.
9. Provide 6-foot tape marks where lines or crowds usually form to respect social distancing ⚠️
This is a great technique that most grocery stores, banks, and other shops have adopted. If you put a line of tape down every six feet the majority of the population will adhere to the spacing request. You can write down encouraging messages and fun one-liners to keep the positivity going through this pandemic. Keeping it light and fun goes a long way especially during this challenging time!
10. Create additional signage around your studio to help with social distancing and remind customers to stay safe and well 📝
As a society, we are not used to the new safety precautions introduced after COVID. Friendly reminders posted around the studio will help reinforce these measures and ensure your customers are staying safe and well during their visit to your studio. Signage can be posted:
• On the front door
• In the bathrooms
• In the classrooms
• Outside of the classrooms
• At the front desk
• In the halls
• Next to equipment or amenities that are restricted
The messages could be fun to encourage customers to respect social distancing and touching for example:
• We love your face but please don't touch it!!!
• We all breathe very heavily when we work out, please respect your neighbors personal bubble while in class!
• Work those thighs!! Sanitize!!
• You don't scare us COVID-19—we have so many ways to kick your butt!
• Talking 6-feet apart is the new thing!
We encourage you to include your studio logo, brand colors, font on the signs you create. Always offer to answer any questions your customers may have at the end of these signs.
—
We hope these tips will help you when you reopen your studio to the public! Please feel free to reach out to zingfit support if you have any questions or concerns. We are here to help!
Stay Safe and Well!
CLICK HERE to book a zingfit demo!