A word from zingfit:
We are thrilled to share this case study put together by Solmark Creative. Jenni and Mike Schwartz are an incredible team, responsible for some of the best looking boutique fitness brands around the world. Together they own Solmark Creative, a branding and digital design studio specializing in the wellness space.
At zingfit, we have had the pleasure of seeing Solmark create many beautifully designed brands for clients who also chose the zingfit platform. One such brand is CAMP Tampa, based in Tampa, FL.
Recently, in an amazing effort Solmark and CAMP Tampa put their heads together, and drew on their creativity and 'if you decided to do it, then do it' attitude to launch CAMP's brand new, video-on-demand (VOD) website in only FOUR DAYS! We all crave more time and resources but sometimes if you want to make something amazing happen all you need is the right people and not enough time.
Solmark offers integrated design for multiple VOD and live streaming providers in the boutique fitness space. In this case they chose Vimeo OTT, based on CAMP Tampa's needs.
We asked Solmark and CAMP Tampa to reveal the process and the magic that made this happen—sharing this case study about that process and the ultimate results.
P.S. We also recently interviewed the co-founders of CAMP Tampa about this VOD launch and more! Listen to the accompanying podcast here:

Here's the case study written by Jenni Schwartz, co-founder and creative director of Solmark Creative.
Overview: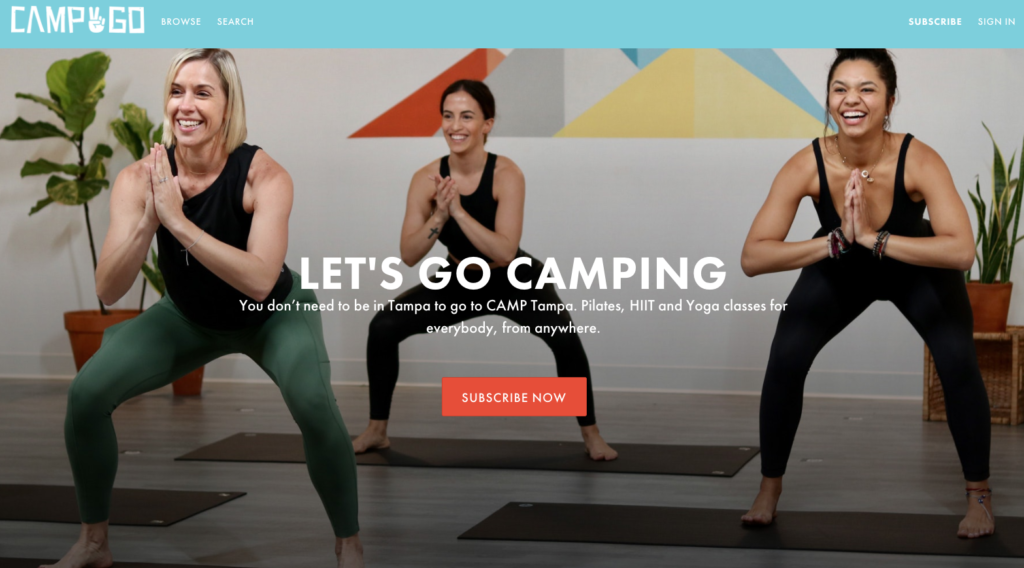 CAMP Tampa approached us on Sunday, March 15th with the idea of an on-demand platform. This is something they had in their pipeline for the future, but with the current situation, it became a project for the now. And when I say now, I mean they wanted this up in 4 days. #NBD
"There was no question of whether we were going to do it or not do it. It was just a matter of how quickly. We've always really believed at CAMP everything we do needs to come from authentic voice. Also, the quality needs to be fantastic. We didn't want to cut any corners."
– Jamie Lanza, Co-founder, CAMP Tampa
Approach: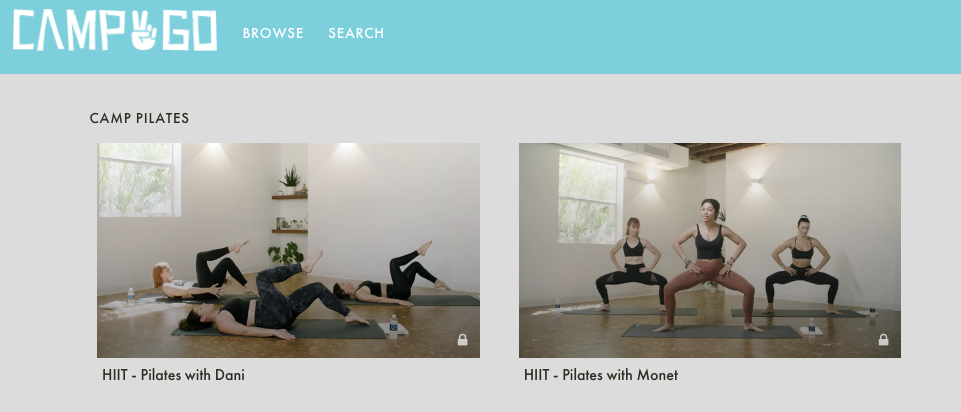 A video on demand website is something we at Solmark Creative had never built before. We didn't have the time to develop something from scratch, so as CAMP Tampa began filming classes, we set off to find the right solution.
We decided on the Vimeo OTT platform given many brands we respect and trust built their on-demand businesses on it. It took some navigating through Vimeo's public information and several phone calls with reps to nail down a swift and cost-effective package that fit our client's needs.
We assisted with the setup and customized the theme to match CAMP Tampa's brand and to create our preferred user-experience. By the time CAMP Tampa finalized their first batch of videos, we were ready to go with Camptampa2go.com. In addition, we created a logo for the new service and made the necessary changes on their studio site to draw traffic to the gorgeous new site.
Meanwhile, CAMP Tampa worked around the clock for four days to produce enough video content to last them for about 8 weeks. Their team tirelessly worked through the days filming classes, while their videography team spent nights editing the classes in post-production.
Results: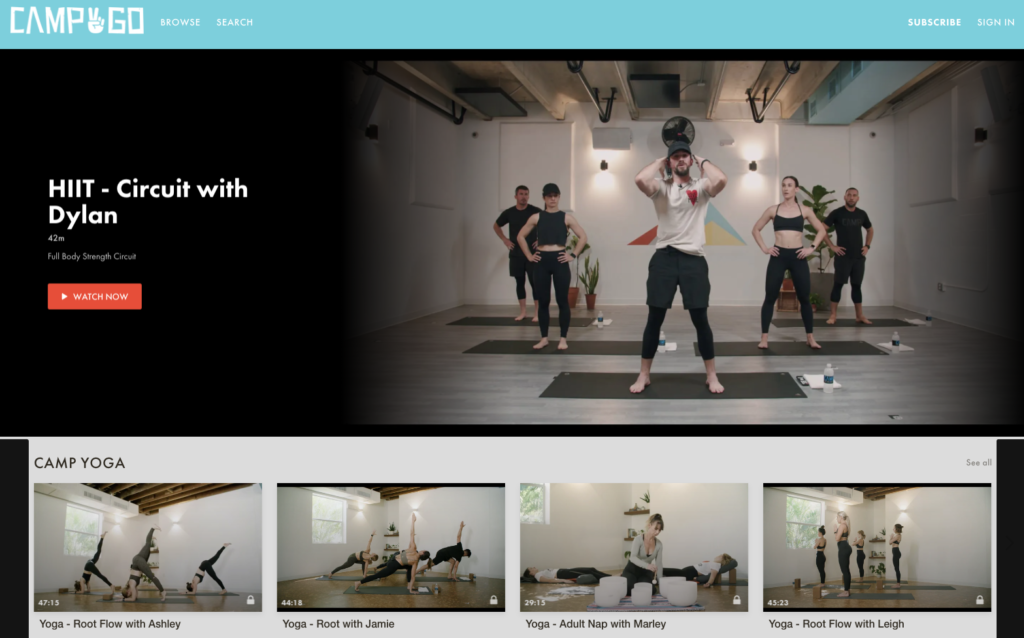 Camptampa2go.com went live on Thursday, March 19th, 2020. The outpouring of gratitude and love that we saw from CAMP Tampa's community has been overwhelming. "CAMPers" are now able to stay connected to their happy place, find comfort in seeing their favorite instructors and take a mental break from all the noise.

In the creation of camptampa2go.com we feel as if we made a huge difference in keeping the CAMP Tampa magic alive while their campus is temporarily closed! Beyond this crisis (and yes, it will eventually end), their new video-on-demand platform will continue to bring in additional revenue for months and years to come.
"I feel like even more than the little bit of revenue that's coming in that's helping us take care of our staff, is just the morale and the engagement that we're continuing to be able to have with our guests because we've built such a great community. These guests are truly our friends. To just drop that was, I don't know, I can't even fathom it.

"The ability to still engage with them and still be a part of their lives and still hear from them. They are posting videos all day, every day bantering with the different coaches on the videos. I mean, that engagement is everything right now. It's such a sad time. I don't know. It's just so fun to see everybody have something that brings a smile to their face, to our face. It's been great. I think that's probably the best part."
– Jen Azzarelli, Co-founder, CAMP Tampa
Within 7 days of launching camptampa2go.com Jamie and Jen shared that they had over 1,000 subscribers. Of those thousand about a quarter of them are "new" members, meaning they do not currently have an active membership with the studio.
"We had 1,000 subscribers within 7 days of going live."
– Jamie Lanza, Co-founder, CAMP Tampa
They have also had an outpouring of gratitude from former members and staff who had moved away and are so thrilled to be able to re-engage with their beloved studio from afar.
Conclusion:
Like with every first project (aka guinea pig), we put in the time, did our homework and came up with a proven process. We've now helped several fitness studios launch video on demand websites quickly and affordably. We love this industry and we want to continue to see it flourish. It feels amazing to be able to support and make a difference during this time.
---
Solmark Creative is currently offering a special project-based fee to help boutiques launch their live streaming and VOD sites. Contact them to find out what the best platform might be for your studio: solmarkcreative.com/on-demand
For more content about launching Video on Demand, surviving COVID-19, and community building during lock down, check out our latest podcast episode. We talk to Jamie & Jen, the co-founders of CAMP Tampa about all this and more!