Welcome to Power To The Industry Podcast
Episode 3: New World, New KPIs—How the Boutique Fitness Industry Can Thrive in Times of Uncertainty.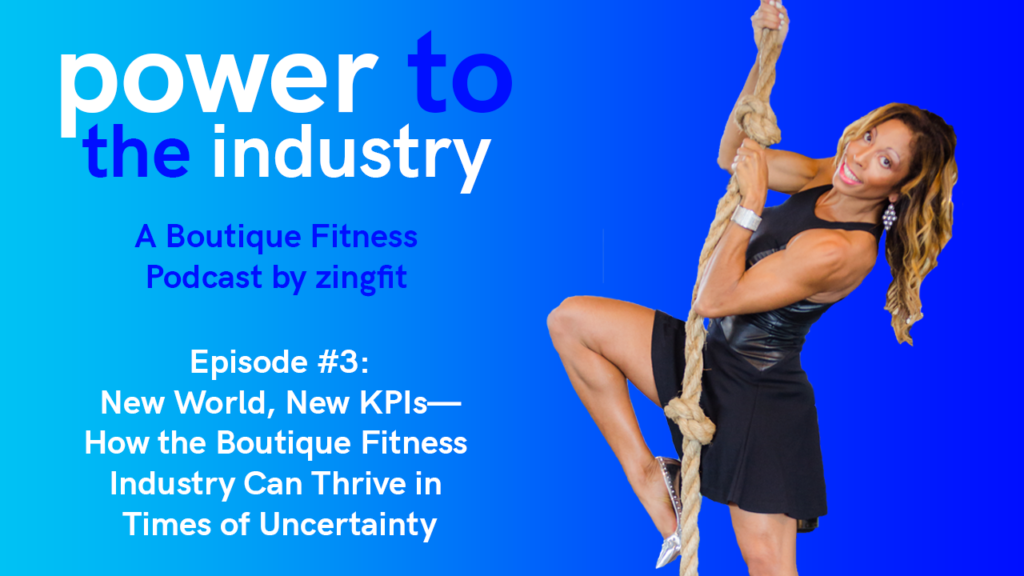 The Biggest Thing You'll Learn From This Episode:
Now is the time to really assess your fitness business. This is the perfect opportunity to review your Key Performance Indicators and figure out what has been working versus not working for you in the months leading up to this shut down. Businesses and brands that are thinking long-term will survive and thrive through the coming recession and those who invest MORE in themselves, their business, and their people now will come out of this stronger than ever.
About Our Guest:
KK Hart is a long time friend of zingfit and total expert and veteran of the fitness industry. KK is a Certified Consultant that owns and operates several wellness businesses, in addition to being the CEO of a boutique sales & marketing agency specializing in the health, fitness, wellness and small business industries.
With extensive experience as an international fitness and business expert, KK is regularly featured on Fox and The Huffington Post, among other media outlets. She has a Master's degree in Health and Business and over 15 years of experience specifically helping health, fitness, beauty and wellness businesses grow.
As a business coach and consultant, KK coaches on strategies for revenue, retention, pricing, sales and marketing. Her passion is to help you to become as profitable and self sufficient as possible! With many options to help clients to achieve their goals, KK is known to be a game changer and secret weapon for business owners. Her clients consistently become the top earners in their industry!
"Make your business stronger and start focusing on thriving instead of just surviving!"
You can now get 50% her course to learn how to set up your online virtual studio at http://kkhart.com/streaming-your-online-virtual-studio/
About the Episode:
We cover the new landscape for boutique fitness studios which will require a whole new mindset and set of KPIs as a global recession looms on the horizon. KK shares what she's thinking about to plan for the future as a consultant but also as a studio owner herself.
She also talks about her different approaches to business planning for studios that are cash-strapped versus studios that are financially prepared to weather the storm. Plus we go into the many, many considerations one should make before deciding which platform to livestream or offer video on demand on.
Thanks for listening! We'll see you next week.
CLICK HERE to book a zingfit demo!