Boutique Fitness Attracts a Wide Range of Investment:
This article was written by David Minton, Director of LeisureDB – base in London, UK. David has 30 years experience in the health and fitness industry, and holds a unique insight and perspective on the developments in the health and fitness sector. David is widely sought after as mentor, analyst, advisor and consultant by a range of worldwide health and fitness organizations and leisure investors. We're re-sharing David's article on investing in boutique fitness as part of our Education and Thought Leadership Blog Series.
———
London's growth in both supply and demand for boutique studios is the fastest growing segment in the fitness industry. By the end of October 2018, London had 278 boutique sites with over 400 studios offering 15,806 classes each week. The popularity of this segment, which sets itself apart by offering captivating experiences and providing a memorable visit, is detailed in the new benchmark report, "2018 London Boutique Studio Report." Details can be found here: http://www.leisuredb.com/fitness-studios-boutique.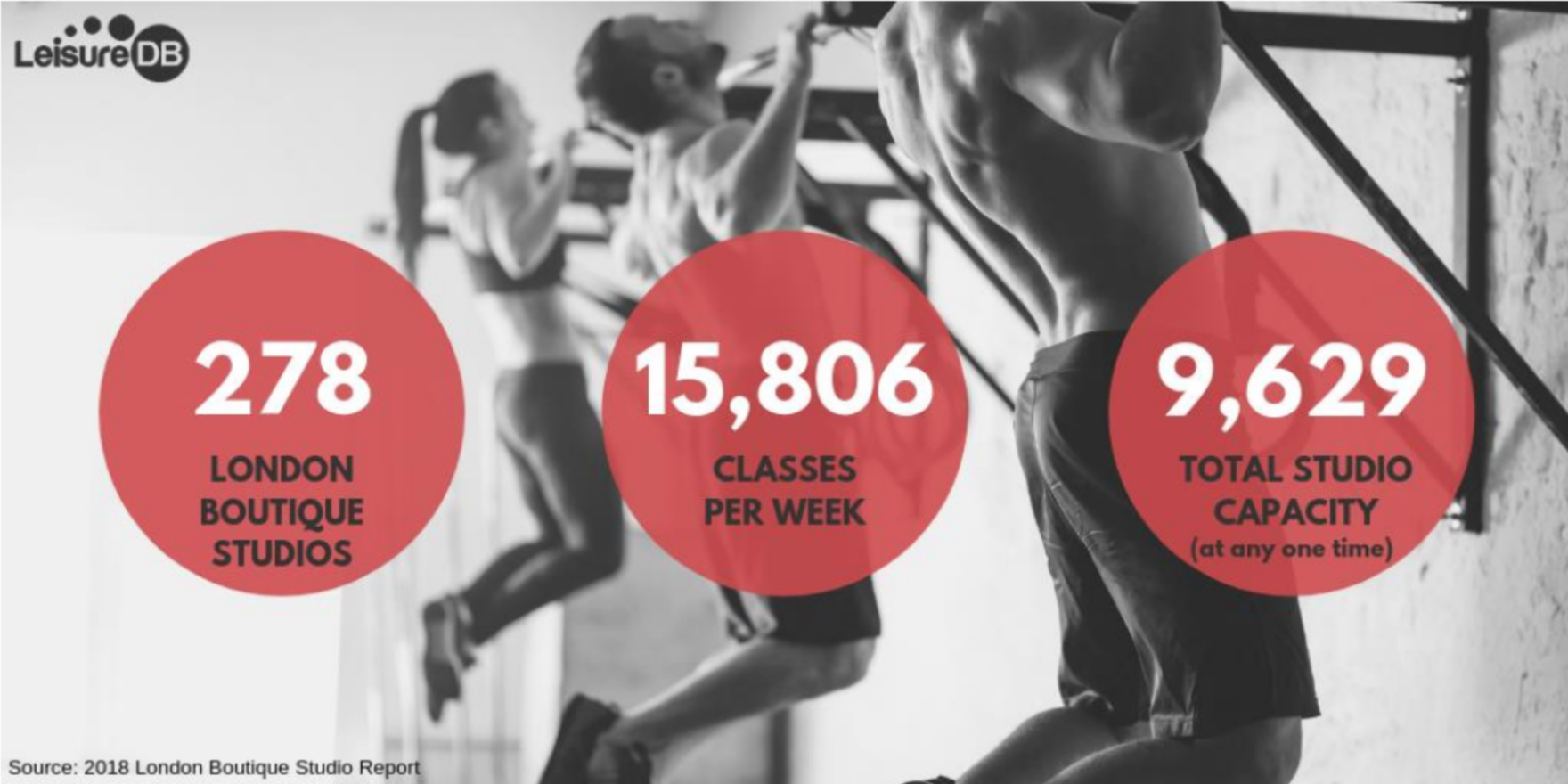 Boutique: The Not-So-New Emerging Trend
The boutique studio trend should come as no surprise as Barry's, for example, started in West Hollywood, Los Angeles, 20 years ago and other concepts like 'spinning' are even more mature.
Boutique concepts are not new; London is awash with cool, hip hotels, bars selling craft beer from microbreweries, wine bars specializing in boutique wineries and there's no end to the number of baristas adding value to the simple coffee bean.
People are prepared to pay a premium to have a story to tell; an experience, to understand the provenance and to be part of a tribe. Boutique studios are cashing in on this movement and the 2018 Report explores the growth since 2011.
Details include studio type, number, classes, location, capacity, extra facilities and live links to the social media channels. A breakdown and history of the main boutique styles (HIIT, Mind & Body and CrossFit) are provided along with charts showing the number of weekly classes across all sites.

The Two Pillars of Growth: Imagination & Investment
This is the most fitness-tainment moment London has known in our time and it's a safe bet to say the research team at LeisureDB are not only the fittest but most well informed on what makes a great experience, after taking classes at every main brand.
This movement couldn't happen without investment, imagination and some clever mash-up of athletic-wear, fashion, music, some inventive collaborations and design. In London, the investment and co-branding has been on a more British scale with hype and queues to get into classes more muted than NYC and LA.
Crowd Funding has helped brands like 1Rebel, BLOK, Core Collective and Boom Cycle, contributing around £10 million towards growth. Investment firms like Codex Capital (1Rebel), Piper (Frame), Encore Capital (Another Space) and Pembroke VCT (Boom Cycle) are some of the early investors with around £20 million committed so far. Private investment from former and current professional boxers and fighters, local and international franchise operations plus industry specialists are fueling the growth.
After the investment comes the imagination, design and experience which people are prepared to pay for. BXR, a fitness site with boutique studios launched in January 2017, is a passion project for the undefeated boxer Anthony Joshua. It has been experimenting with 'drop-culture' to create demand and urgency, a strategy pioneered by streetwear brands like Supreme and Palace. So, drop in to see the next Joshua fight (it was a great evening), to the Selfridges Residency (a pop-up first) and Victoria Secret (shhh, it's a secret).
The Future of Collaboration in Boutique Fitness
The scale of investment and collaborations in the USA speaks volumes for the 'can-do' positive attitude that flows from the west coast. Venture capitalists, private equity firms, family offices, real estate firms, hotels have all developed an appetite for boutiques and seen how new concepts can add value to their existing investments.
Luxury brands are linking with street power brands and collaborations are going mainstream. Louis Vuitton Moet Hennessy (LVMH), who have over 60 prestigious brands, partnered with Catterton, a private equity firm, in 2016. The re-branded "L Catterton" is one of the largest, diversified consumer-dedicated private equity firms in the world. Three of L Catterton's portfolio of boutique companies are named in "The World's Most Innovative Companies 2018" by Fast Company.
Major Investors to Watch Out For
Included in the Wellness listing at number 1 is Peloton, for bringing the boutique fitness experience into the home. Number 7 is Pure Barre for stretching the appeal of ballet-based exercise and number 8, Equinox, for breaking further into the luxury wellness industry with its new hotel concept. The Equinox owned SoulCycle is at number 6. L Catterton also have investments in CorePower Yoga, the UK athleisure brand Sweaty Betty and for the cyclists reading this, Pinarello.
TPG Growth is another red-hot investor in this sector and Mark Grabowski joined in 2016 after leaving L Catterton, where he worked on the Peloton and Pure Barre deals. TPG Capital, the main investment firm, owns a stake in USA fitness gym operator Life Time Fitness which it took private in 2015 with Leonard Green & Partners from LA, in a $2.8bn leveraged buyout.
Leonard Green & Partners purchased the UK's largest low-cost brand Pure Gym, in 2017. Grabowski has now spun out of TPG, raised his own fund and partnered with Anthony Geisler to buy Xponential with the idea of curating various boutique fitness concepts under one umbrella.
The holding company currently has Club Pilates, Stretch Lab, Cyclebar, Row House, AKT, Yoga Six and in 2017 had almost $150 million in revenue. Cyclebar will be the first brand to open next to the new Embassy of the United States in London's wider Battersea development this year, while master franchises, will be appointed to expand all brands throughout Europe.

Hotel & Real Estate Players
Hotels and real estate companies have been expanding the boutique concept to include fitness. Hilton Hotels, a legendary name in the hospitality industry, is listed number 3 in the Fast Company Wellness listing for building hotel rooms that double as gyms with its Five Feet to Fitness initiative. Hilton have also installed 6 Les Mills 'The Trip' virtual studios in the UK.
Hyatt Hotels acquired Exhale, a 15-year-old boutique spa concept with 25 locations, in 2017 to add to the Miraval, a provider of wellness experiences, to deliver wellness to guests. Marriott International own the five W Hotels in NYC and have partnered with Swerve Fitness locations at Midtown and Flatiron. Guests get a Swerve swag bag and unlimited rides during the stay. At Swerve you ride in 'teams' (Red, Green and Blue) for 45 minutes of rhythm rides bringing indoor cycling and team competition.
Another NYC hotelier, Michael Achenbaum, who's behind the sleek Gansevoort Hotels, opened the Curtain Hotel and members club in Shoreditch, London, with local developer SUSD, May 2017. In the members club soundproofed live music studio, Boom Cycle (featured in the Report) pop-up opened for members. The pop-up has moved on but as Achenbaum says, "boutique, hotels and fitness, are redefining creativity."
The Related Companies first Equinox-branded hotel with 60,000 square foot gym and spa will join Related Companies boutique brands like SoulCycle and Rumble in NYC Manhattan's West Side in a new $25 billion Hudson Yards development, a new model for urban renewal. An interesting aside, Thomas Heatherwick, one of London's most original thinkers, responsible for the new Routemaster buses in London, the Rolling Bridge at Paddington Basin and the London Olympics 2012 Cauldron, is creating his monumental $200 million artwork 'Vessel,' a honeycomb like staircase, to be the focal point for Hudson Yards.
This first comprehensive report on the growth of Boutique Studios in London provides unique insight, with benchmarking, into the fastest growing fitness segment. Copies of the report can be purchased and downloaded from http://www.leisuredb.com/fitness-studios-boutique.
Article written by:
David Minton, Founder & Director of Leisure DB
January 2019
CLICK HERE to book a zingfit demo!