zingfit Partner Spotlight: iKizmet
Need more robust customer statistics and attendance information? Need to roll up information across multiple locations? Want more actionable reports? Read on.
Boutique fitness is booming. But with so much competition and so many offerings, how do you ensure that your studio is acquiring customers efficiently and retaining them? It's hard to make decisions without good data.
Data is the Answer
If you don't know your churn rate, your rate of conversion from intros to repeat bookings, or your average class size versus spots available, you could be missing out on red flags or downtrending revenue. On the other hand, you might be missing the opportunity to invest in activities that are performing well.
Before: Time-Consuming Work
But the process of collecting and analyzing data can seem intimidating and time consuming. We get it, especially when you need to take these steps:
1. Identify which numbers you need
2. Set up and run reports to collect those numbers
3. Download the reports
4. Convert them to Excel files, and
5. Compare and analyze the data. (How many of us understand pivot tables?)
You might take all of those steps to determine just one Key Performance Indicator (KPI). It's no wonder that business owners avoid this work.
After: Easy, Actionable Information
We created iKizmet specifically for fitness and wellness business analytics because we recognized the need for quicker and more reliable reporting tools for our industry. (And, having stunning visual charts and graphs don't hurt.) Working with single and multi-location studios and franchisors/franchisees, we know which numbers are important to your business model.
Automatic Dashboards
iKizmet automatically syncs with your zingfit data and presents important information in a beautiful, clear visual dashboard. You can make smart, informed decisions in your business that are not just backed by feelings, but by facts. Intuition is important; so are numbers that tell a story about your business. Imagine knowing your numbers with just a few clicks, then using that information to build a cohesive, actionable strategy.
Memberships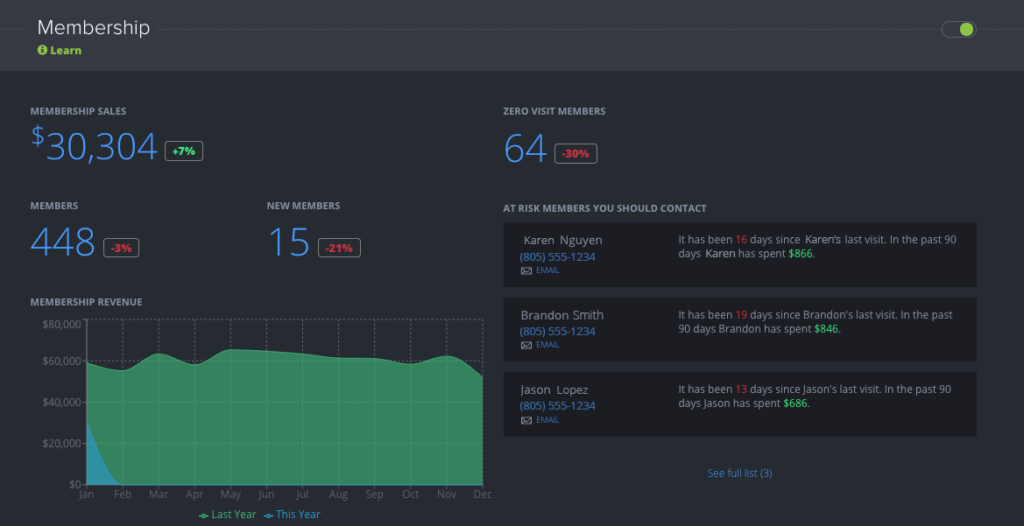 The pulse of your business is Memberships. Memberships mean recurring revenue, expenses covered, and profitability. It's one of the most important numbers to track.
iKizmet offers a Memberships tab that displays your members at a glance. This features displays and automatically calculates:
● Membership Sales
● Churn
● Members and New Members (including trends since the last week or monthly time period)
● At-Risk Members You Should Contact (Referring to members who haven't visited the studio with their contact information displayed)
● Reactivated Members
All of this data is available to track on a monthly or weekly basis, and shows whether the numbers are going up or down period over period.
Attendance and Utilization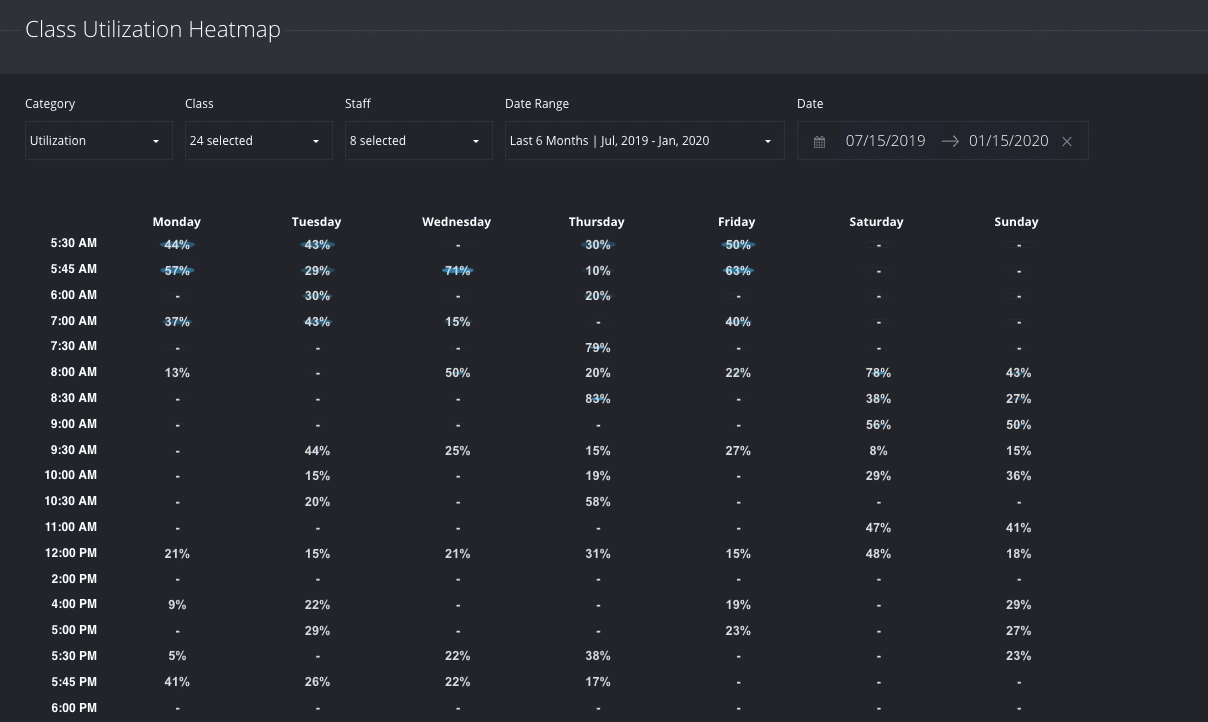 Attendance rates are a key factor when building your class schedule. When you add up the cost of an instructor and a front desk attendant, it might not make financial sense to offer a 5:00am Monday morning Barre class if attendance rates are consistently low.
To evaluate attendance and utilization, one of our clients' favorite features is iKizmet's Utilization Heat Map. This handy map shows you which class times, class types, and instructors are most popular, as well as Average Revenue Per Class (and vs. the previous period) and Average Class Size (by attendance).
The Attendance Dashboard shows you trends such as the number of Active Clients, Percentage of Returning Clients (vs. New Clients), Average Class Size by Instructor, and even the breakdown of attendance by New Clients vs. Existing Clients.
This data shows significant trends and can indicate when it's necessary to dig deeper or take action. For example, if your existing clients are trending downward, you need to take a hard look at why your members aren't returning.
Marketing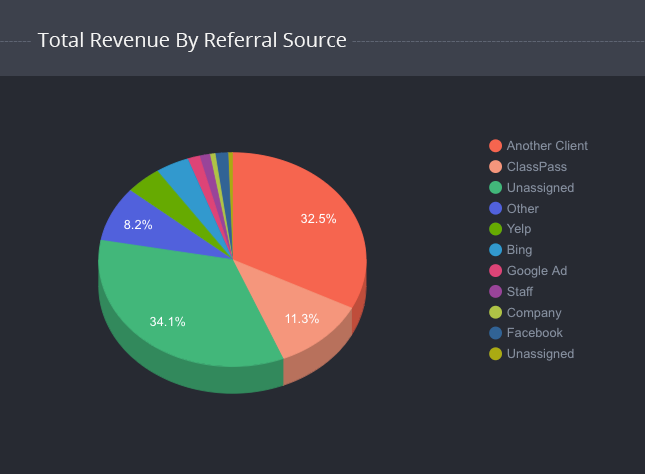 The ROI of your marketing efforts is critical for assessing where to invest. On iKizmet's dashboard, the color-coded Referral by Source clearly shows which referral sources are producing the most revenue for your business. You'll also see the new profiles and how many resulted in initial visits. Use these numbers to ramp up your referral program – a significant source of new business for most studios.
Give iKizmet a Try
If you have questions about the zingfit and iKizmet integration, you can read this knowledge base article.
Ready to level up? Join iKizmet's savvy users who take full advantage of their data to make the smartest business decisions. Sign up for an iKizmet demo to learn more.
—
Not a zingfit customer yet?
Learn more about our powerful studio management tools that are custom tailored to support emerging boutique fitness brands.
CLICK HERE to book a zingfit demo!